There are three key ways that a good landscape design can be important for your home or property: Financially, Functionally, and Personally.
Financially, a proper landscape design will often add value to a home or property and can be considered a good investment, depending on a few elements that will be detailed below.
Functionally, a good landscape design will have proper vegetation for your region and climate, and will also ensure that your vision is sustainable for the space you are wanting to change. Of course, proper landscaping design will also create a livable, workable space for any activity you desire.
Personally, your landscape design should match your aesthetics and style. A point most often overlooked when discussing landscapes is how your surroundings can enrich and influence your day-to-day life. For instance, a back yard designed with your needs, likes and sensibilities can provide comfort, pleasure, and privacy that many consider more valuable than any dollar amount could express.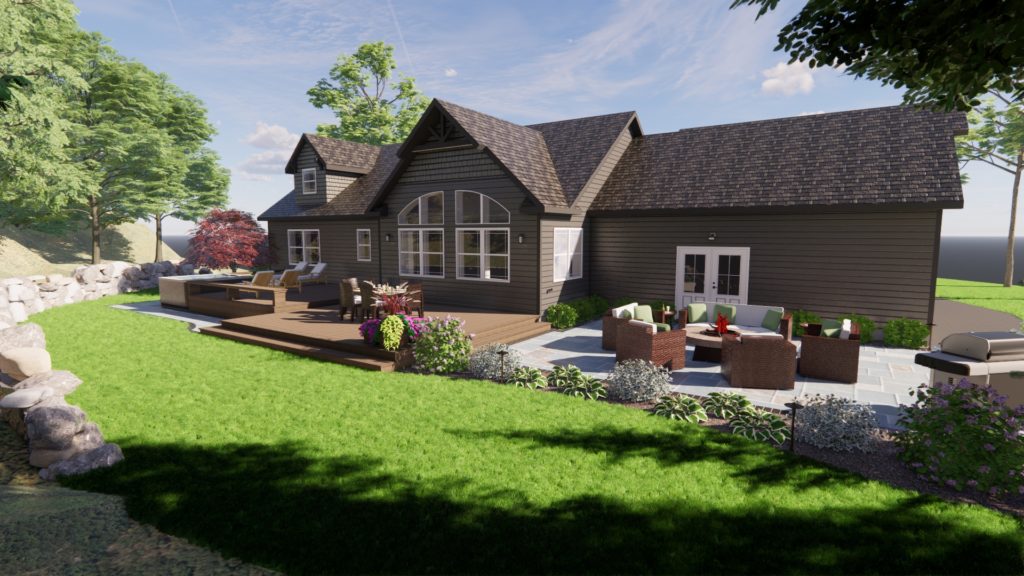 How Does Landscaping Affect Property Value?
While many of us are raised to not judge a book by its cover, it is no doubt that many home-buyers make their judgments on a prospective home on sight alone. Curb appeal is often cited as a crucial element for those looking to purchase a new home or property. The less work a buyer needs to put into their purchase, the more they are willing to close at a price suitable for you. This is the most obvious way good design adds value to your property, but it's a little more complicated than just "curb appeal."
Landscape choices can have added economic environmental benefits, as well, such as planting trees and vegetation that provide coverage that can directly help with the heating and cooling of your home. Smart landscaping design also provides functional benefits like drainage and irrigation for your yard.
On the other hand, poor landscaping choices can decrease the perceived value of your home. For instance, a landscape with difficult or seasonal plants or overly-specialized features that require frequent maintenance can have long-term effects on property value and can create problems for you in the future. This is why it is very important to work with a professional who can make sure you save yourself time and money in the future!
How Much Value Does Landscaping Add?
Depending on your location, a good visual design can add anywhere from 5-15% to a home's perceived value. This could be as simple as a well-maintained lawn that is properly cut and edged, to an entire lighting and vegetation arrangement that makes the space look more spacious and inviting, but value can't always be expressed with a number. Ultimately, landscaping design is a personal choice that can create immense personal value to you for your home. Thankfully, many homeowner studies have statistically shown that good design can directly aid in the selling process, and a return on investment is almost certainly guaranteed when a landscape design is done professionally.
Is Landscaping Worth the Money?
Going by the numbers, when done properly, professional landscape design has proven time and time again to add value to any property. Those who invest in good landscape design can reap the benefits of convenience, beauty, and a return on investment that can be measured both financially, and simply by its function in your daily home life. Those who have a living space that is comfortable, pleasing to the eye, and easy to maintain are generally happier people who have more free time to spend comfortably where they live and have an easier time selling their home in the future.
So, if you feel like your landscape needs a new breath of life or you simply want to add tangible benefits and values to your home, please consider working with a professional landscape designer to ensure your needs are met and that you are doing things the right way, the first time!
If you'd like to learn more about the services offered by Landscape Architectural, please visit our homeowner's page to get started! Our design professionals would be happy to discuss your needs with you during our free 30-Minute Consultation and get you started on your new landscape adventure!